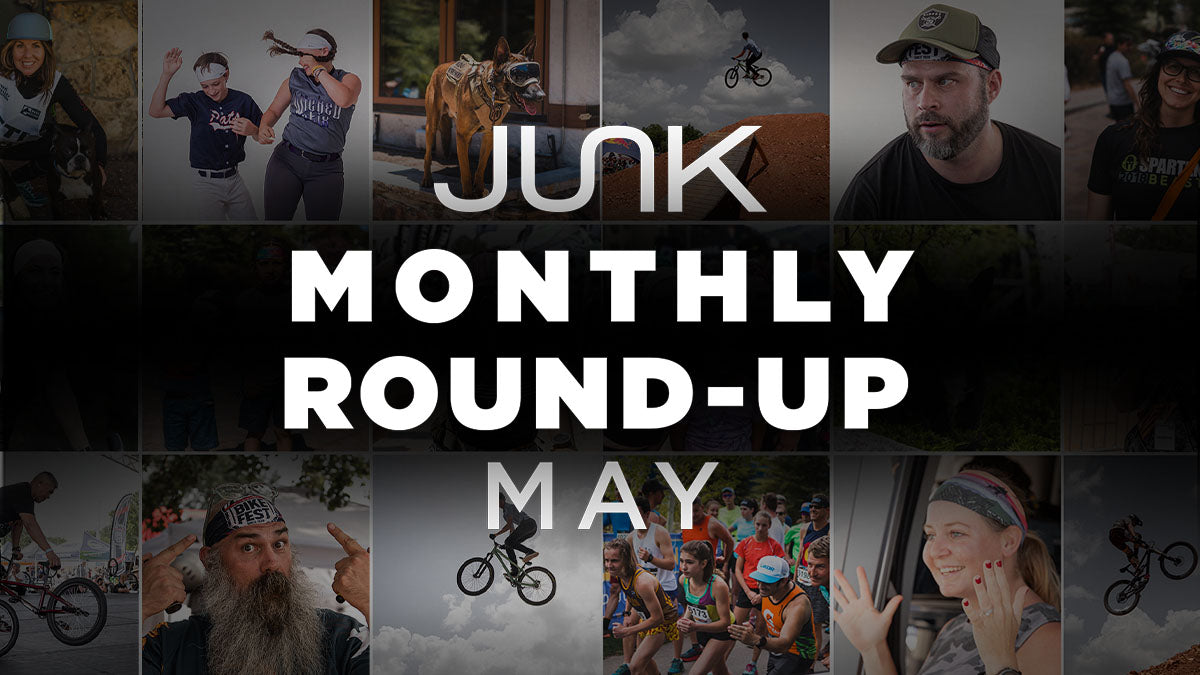 JUNK May Round Up
We're bringing you a round-up of industry news, movement encouragement, and seasonal headband options. This month we've got all things biking, mental health month, gearing up for GoPro Mountain Games, Liquid Inspired Collection. Read the rundown of May here. 
Biking
JUNK Brands is nestled in the Mountain Biking Capital of the World, according to People for Bikes and claimed and embraced in Bentonville. It surrounds us, it is the life we breathe. We love mountain biking, gravel biking, road cycling, and all that. Bentonville, Arkansas has grown a ton since its inception in 2007.  
Community is what makes mountain biking so much fun. When you can surround yourself with like-minded individuals. Bentonville breathes it.  
Biking is a great activity to do with your family, and now so many kids have grown up in the NWA area riding and being outside. If you're traveling to Bentonville, be sure to stop by our headquarters and grab the best under helmet headband you'll ever wear before you hit the trails. 
Stay tuned for a Father's day interview with Rich Drew. And read our full interview with Kenny Belaey.
Mental Health Month
At JUNK we are all about fitness in your Mind, Body, and Soul. Moving your muscles can help you clear your mind. Establishing daily habits is a great way to kick start your mental health. Set goals for two days a week, or try habit stacking. When you make your coffee or protein shake in the morning, place your journal on your coffee pot or blender.  
There are a few things we are practicing at JUNK this month. We've got weekly yoga to make sure we are breathing and finding relaxation in the middle of our workday. We also have several mental health seminars from Sheep Dog and Mercy Health, as well as a financial wellness seminar. 
Gearing up for GoPro Mountain Games
These games are everything JUNK loves. Wild, athletic, and so. Much. Fun. Athletes and outdoor lovers from everywhere come together to race in nature. These athletes bike, run, climb, kayak, raft, sup, fish, disc, do yoga, and/or bring their dogs. We can't wait to capture the excitement. If you're a nature lover and athlete, we'll see you in Vale, CO.  
Liquid Inspired Headbands 
These headbands help you show your heated passion and cool persistency.  
Water makes canyons because of its persistence and quiet strength. Be consistent. Be persistent. Show up.  No matter what you've gone through or where you've been, you value consistency. You're intuitive, a good listener, and benefit emotionally from workouts in a less intense way. 
Lava burns fiercely and with intense heat. These lava-hot headbands highlight the passion and fire that lives within you that comes out when you get in the zone. You're spontaneous, creative, and courageous. 
No matter if you are fire or water, get moving, get motivated. Check out the collection (and more) here! 
Follow us on social @JUNKBrands, and stay tuned for more from JUNK!  
RELATED