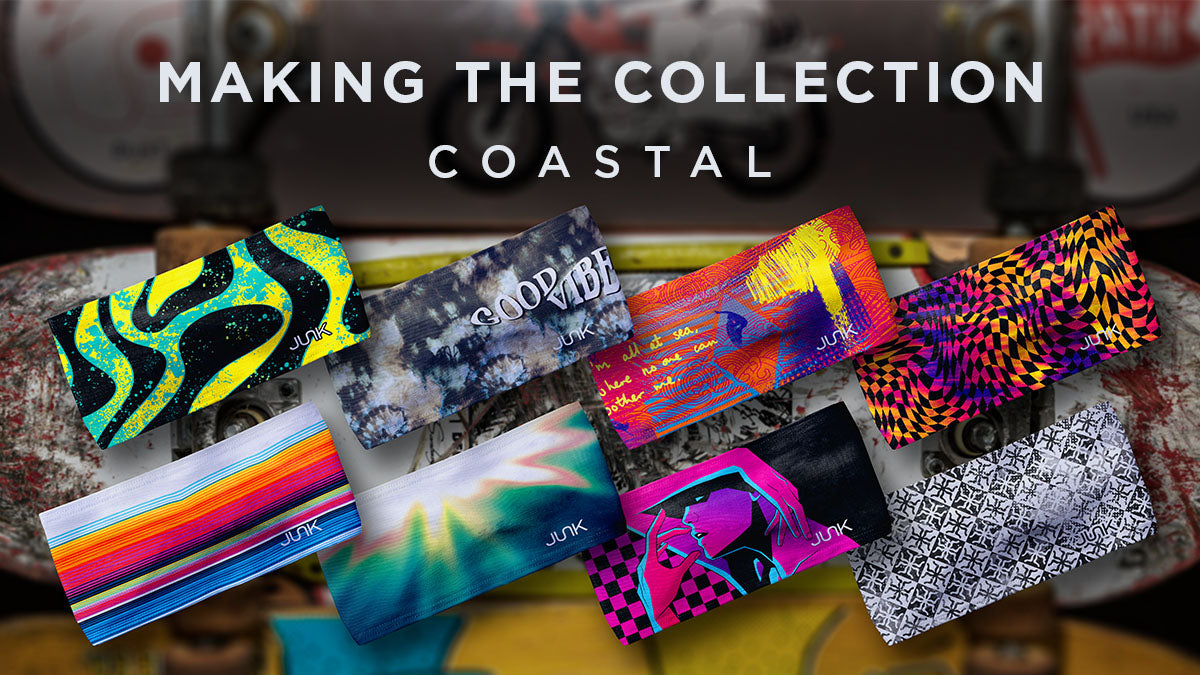 Making the Collection | Coastal Headbands
We believe athletes come in all shapes and sizes. And while being an athlete might be part of your identity, it is only a part to your whole. You are a creative being, you love to read or take care of your plants or cook. You have a favorite color and a dog. We do too. There is so much more to us.  
The sun, the sand, the concrete wave, wherever you are, let the good vibes find you. This collection is for the rebels, the edgy and/or the enlightened. The kids who begged their parents for a skateboard for Christmas. The kids who grew up on the lake, by the ocean, or in the middle of the desert.   
This coastal collection embraces everything that we loved about growing up, and everything we brought with us into adulthood.  
After the indoor confinement of 2020, there's been a massive rise in the demand for adventure and adrenaline sports. In the 60s – through counterculture and rise of rock'n'roll, extreme sports emerged. Named for their consequences – people dared to do more.  
Or as we'd like to say, dared to live life to the fullest.  
The Lifestyle, The Adrenaline 
There are those that have been in it since the start, but there are the newbies in the new rise of adrenaline sports. TikTok and skater girls are launching skateboard sales sky high. Roller derby is cool again. But we welcome them with open arms into a world of athleticism.  
At JUNK, we embrace imperfections and encourage expression. We believe that movement makes life better, and we want to help you embrace your inner rebel and live life to the fullest. Check out our play hard coastal vibe collection and join us in embracing wellness for the body, mind, and soul 
The Focused, The Enlightened
Our coastal collection is all about embracing and expressing the rebellious, focused, and enlightened side of ourselves. We've designed this collection for those who grew up on the lake, by the ocean, or in the middle of nowhere - those who love adventure and adrenaline sports. 
We all have different definitions of exercise. We talk about CrossFit a lot because we have the ultimate headband for it. We also make the #1 under helmet headband for biking, baseball, football... you get the picture- whatever gets your heart racing. 
If you sweat, these JUNK Headbands are ready to wick your sweat and keep your hair out of your eyes- and this collection allows you to express yourself while you work.  
Follow us on social @JUNKBrands, and stay tuned for more from JUNK! Check out the full collection!
RELATED
Making the Collection | Fluid Abstracts
Making the Collection | AI Inspired Headbands