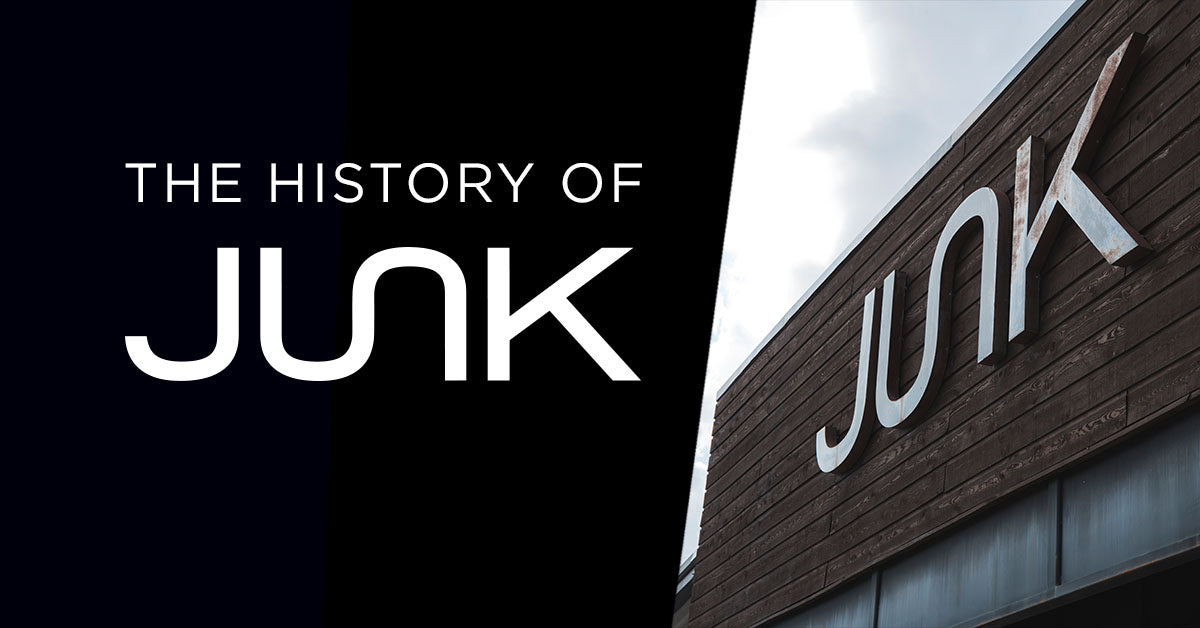 JUNK's Story | Our Roots in Cross Functional Fitness
In 2011, our founder started wearing her handmade headbands to the gym. She would get asked about them, and she would say, "it's just some junk I made," and began lovingly referring to the headbands as "Kourtney's JUNK."
Where it began 
It all began in a spare room, and then the room above a detached garage. In 2012, Kourtney, her husband Beau, and the family sewed a stockpile of the styles at the time (the Infinity and Flex Tie), jumped in an RV, and rode up the east coast to the Canadian CrossFit Regionals. 
Infinity was similar to the Big Bang Lite, bigger front, and smaller back, made out of pro sport jersey fabric. It had similar construction, a double layer, so it was thicker. 
And in 2013, JUNK Headbands sealed the deal of on-field headbands for the Reebok CrossFit games. We were designing headbands for this when we were still in a space above a garage. There were only 10 or 12 employees then, and everyone did everything. The team learned a lot designing the headbands for the 2013 Reebok CrossFit games, it was our first use of sublimation.
These were all the Infinity and Flex Tie headbands, but we soon worked to perfect and launch new styles to better fit the needs of our new growing audience. 
The Big Bang resulted from some material demos and a look that offered some variety. This demo was where we found technical t-shirt fabric that we've used since. 
The first move - 2014
In 2014 we moved to a renovated COX Health office. We had grown dramatically, and there were still a lot of people to work around in the still too small space. 
Our contractor-turned-building manager at the time took the big bang and would fold or cut the back of the headband, so there was less material in the back. 
There was a general demand for a lighter headband that was more flexible for use under helmets and for less material in the back. People liked the Big Bang but wanted something…. light. We had the hang tags from the Big Bang, and we took our vinyl sticker printer and made the LITE sticker, cut them, and used what we had. They went like gangbusters and are still our most popular style. 
The next move - 2016
We moved to the 1004 building that was in renovation while we were busting out of our seams. It was similar to the structure of our building now but a little cozier while we were smaller then. As we grew, we hit incredible numbers in 2017 and 2018. The Big Bang Lite was popular with all kinds of athletes, especially in the cross functional fitness world.
We had an NBA license and developed new styles. 
The Baller was a direct result of an NBA license and the trends we saw from the basketball players at the time. The thinner band allowed our new audience's different style while offering all the best features of a JUNK headband. 
The Thin Band was at the request of Sam and Jenn Dancer, CrossFit athletes that we had the pleasure of working with. They were looking particularly for another style option and the versatility of a thinner style in more colors.
In 2020 
There was a notable shift. With the pandemic, everyone was expecting a downturn, but people took advantage of the at-home workout boom, and still needed headbands. 
Where we are today- 2022
We still believe that headbands can be a part of a uniform. Once people get their hands on them, they realize it's more of a need than a want. We have perfected our designs to deliver the best headbands, made of the best fabric, with the coolest designs. 
We knew it was the right thing when we dove into markets and provided a product that no one else could provide, with something for everyone. 
Tatum Chance, an OG JUNK employee, said, "We've done a good job of keeping JUNK 'JUNK' but not overwhelming the brand with licenses. If Kourtney and Beau hadn't gotten into that RV and traveled up the east coast, JUNK wouldn't be where JUNK is today.
One person can't do it. You have to have a team that is so willing and dedicated to help the machine grow and build." 
We still love serving the cross functional fitness athletes, and we have branched out to a lot of different sports that didn't know they needed headbands.