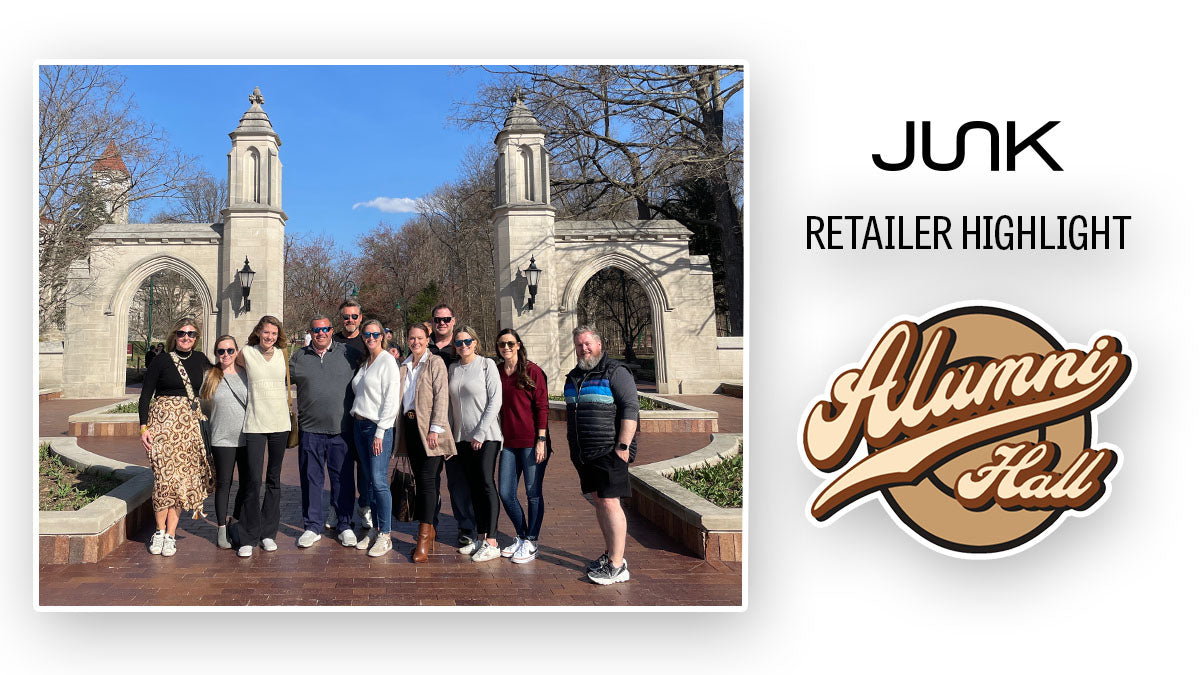 Retailer Highlight | Alumni Hall
From your first 8 a.m. to coming home the first fall after graduation, gearing up and representing your team is a fun part of making memories and treasuring them forever.  
Getting Started 
The dads, the daughters, the players, the teachers, Alumni Hall covers them all. It was a small store with a big idea—to offer the ultimate shopping experience and a unique selection of clothing and merchandise on and near college campuses. JUNK partners with Alumni Hall because they are all about providing high-quality products for active fan bases. 
Alumni Hall opened its doors in 2006 and has now grown to become the hometown college store for the greatest fan bases in the country. They know that being a student, alumni or fan is not just for game day. At Alumni Hall, they make it part of every day. They carry over 18 major schools in over 30 stores offering apparel and accessories for students and their families.  
Alumni Hall is focused on 1 thing - delivering the ultimate fan shopping experience. 
Their goal is to deliver the ultimate fan shopping experience by representing the Universities and Athletics Programs they support with a high sense of pride and spirit. 
They carry the newest and best selection of apparel, gifts, accessories, and headbands, of course. Their store staff are 100% dedicated to that school and fan base. Alumni Hall is not just an endcap in a big box store.  
They are also involved in school traditions. They're based in Northwest Arkansas and carry U of A headbands in-store. They're only a few miles from JUNK and we stand beside each other calling the Hogs. 
Keep Going
The success of Alumni Hall stems from the shared fandom of the university alumni, sports fans, students, and the surrounding community that wholeheartedly cheer on their school.  Customers come to Alumni Hall for newest products, newest trends, and official gear.   
If you're suiting up for game day, swing by and grab a headband at one of Alumni Hall's locations. Follow Alumni Hall and @JUNKBrands, and stay tuned for more from JUNK! 
RELATED BLOGS  
The Coolest Running Store in Wichita