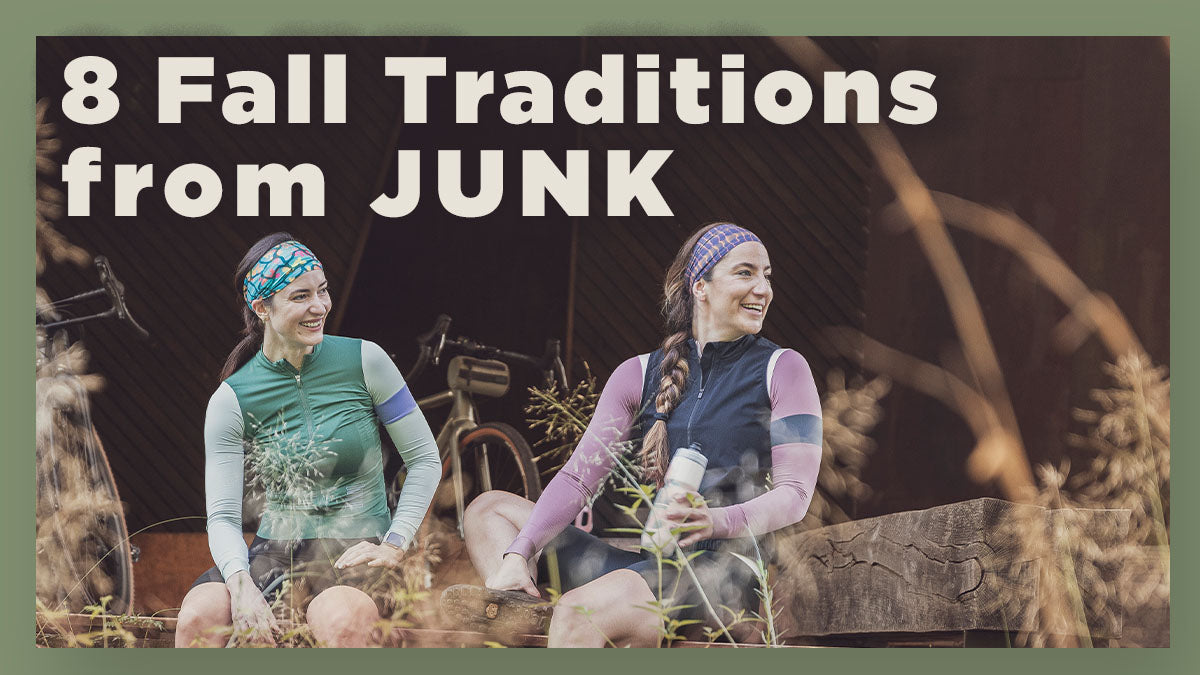 Where to Wear Your Headbands | 8 Fall Traditions from JUNK
Where to wear your new Fall Trending Headbands! JUNK Headbands are the ultimate workout headband, but they are also great ways to accessorize any outfit. 
1. Rock a JUNK headband while prepping your home for fall.
The first thing we do when the weather cools in the autumn is crack open those windows and do spring cleaning session. Our JUNK headbands keep the hair off our face and help us with our cleaning workouts (we're bumping 90's R&B don't worry). We set out our fall and Halloween decorations and sweat it out updating our porches and prepping our yard and home for fall.  
 2. 
Go Leaf Peeping! 
Roll your windows down, grab a PSL and visit a beautiful hometown and observe all the changing leaves (we didn't know there was a word for looking at the leaves). We love driving around downtown Bentonville. A JUNK Fall Trending headband will keep your hair back and match any of your fall outfits on your outing.  
3. Go for a bike ride or run a 5k.
Speaking of Bentonville, the mountain biking capital of the world, plan a bike ride or bike riding trip! The cooler weather is prime time for non-miserable bike rides. There are also a plethora of 5ks in the fall from fall festivals to Goblin Runs and Turkey Trots. 
4. Visit Fall Festivals in your hometown or a beautiful local place. 
Pair this one with a little leaf peeping or your planned 5k and go to a local fall festival. From crafts to great food and getting out in the community, Fall Festivals are one of our favorite ways to connect to the season and help us shift into soup mode.  
5. Fall is our favorite season to COOK. Host a potluck or go to a weenie roast. 
Whether you're going to the family bonfire or just cooking your first batch of soup for the season, JUNK is our go to cooking headband. It keeps your hair back and you still look great with all the chaos of Autumn hosting and attending!  
6. Visit a haunted house, corn maze, or pumpkin patch.
Nothing says "hold my Celsius while I put my hair up" like outdoor fall activities. We've got all the fall headbands so your updo still goes with the fall fit. (It's also great for dads running around with the kids on their shoulders because it wicks sweat!)  
7. GAME DAY!!!
From college football kickoff to dropping the puck on the NHL season, wherever you watch the game, celebrate with a JUNK headband. JUNK carries 62 college teams and all 32 NHL teams! We also make custom headbands if you want to support your kid's team- Check us out: customs.junkbrands.com. 
8. Finally, get out in the great outdoors and go camping. 
Looking for camping headbands? Look no further and grab your style for hitting the trails, cooking over the campfire, or reading in your hammock. An aesthetic camping IG post is in your future. 
What are you doing this fall? #ShowUsYourJUNK and follow us @JUNKBrands and stay tuned for more!  
Related 
Yoga for the Mind Body and Soul